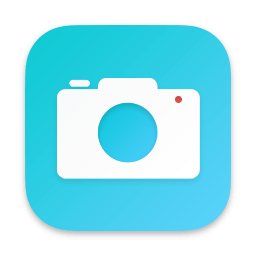 Webcam Plus
Use your iPhone as a webcam for your Mac.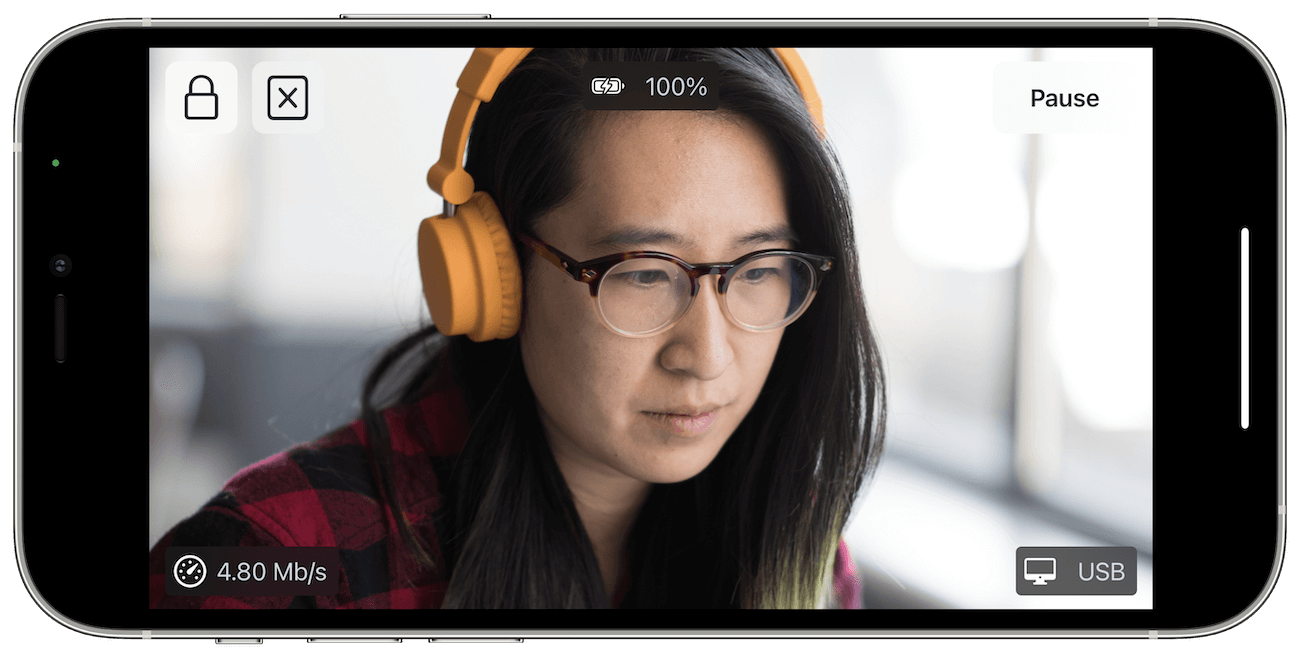 Overview
Easy to use and completely free!
Supports 4K 2160p, Full HD 1080p, 720p and 480p.
Up to 60 FPS.
Use any camera lens on your iPhone.
Focus, Exposure and Torch controls.
Stream via USB with low latency.
Control via Menu Bar.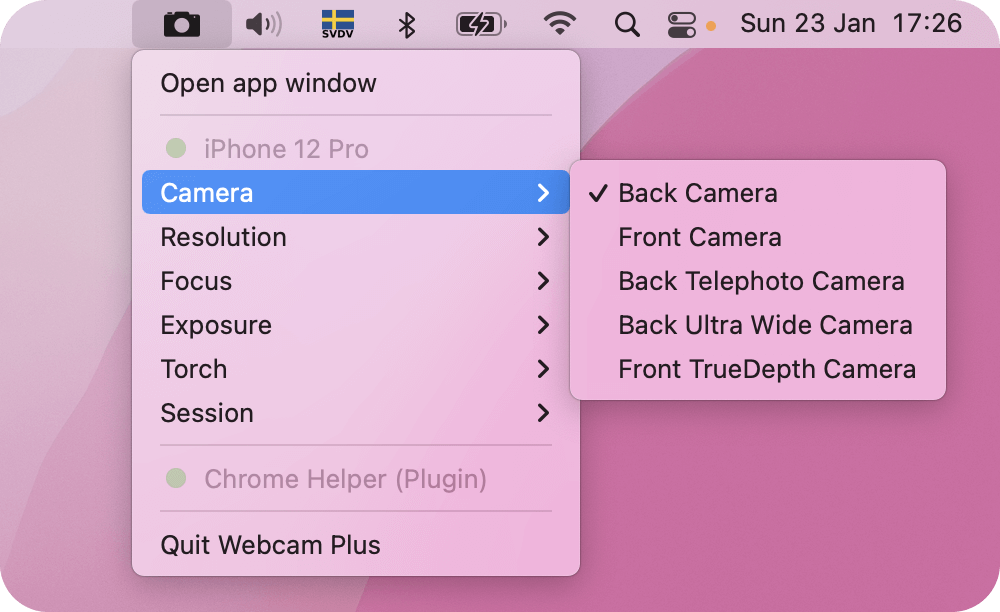 Getting Started
System Requirements
Verify that your setup meets the following requirements:
iPhone running iOS 12.4 or later.
Mac running macOS 10.13 (High Sierra) or later.
Installation
Install the Webcam Plus iOS app via the App Store.
Download and run the Mac app Installer package (see below).
Restart any app that you intend to use the webcam with.
Using the app
With everything installed it is very easy to get started:
Open the Mac app and the iOS app.
Attach the USB cable.
Press Start to start a video session.
You can preview the video by pressing Preview in the Mac app's toolbar.
Select Webcam Plus as the camera input in your video app.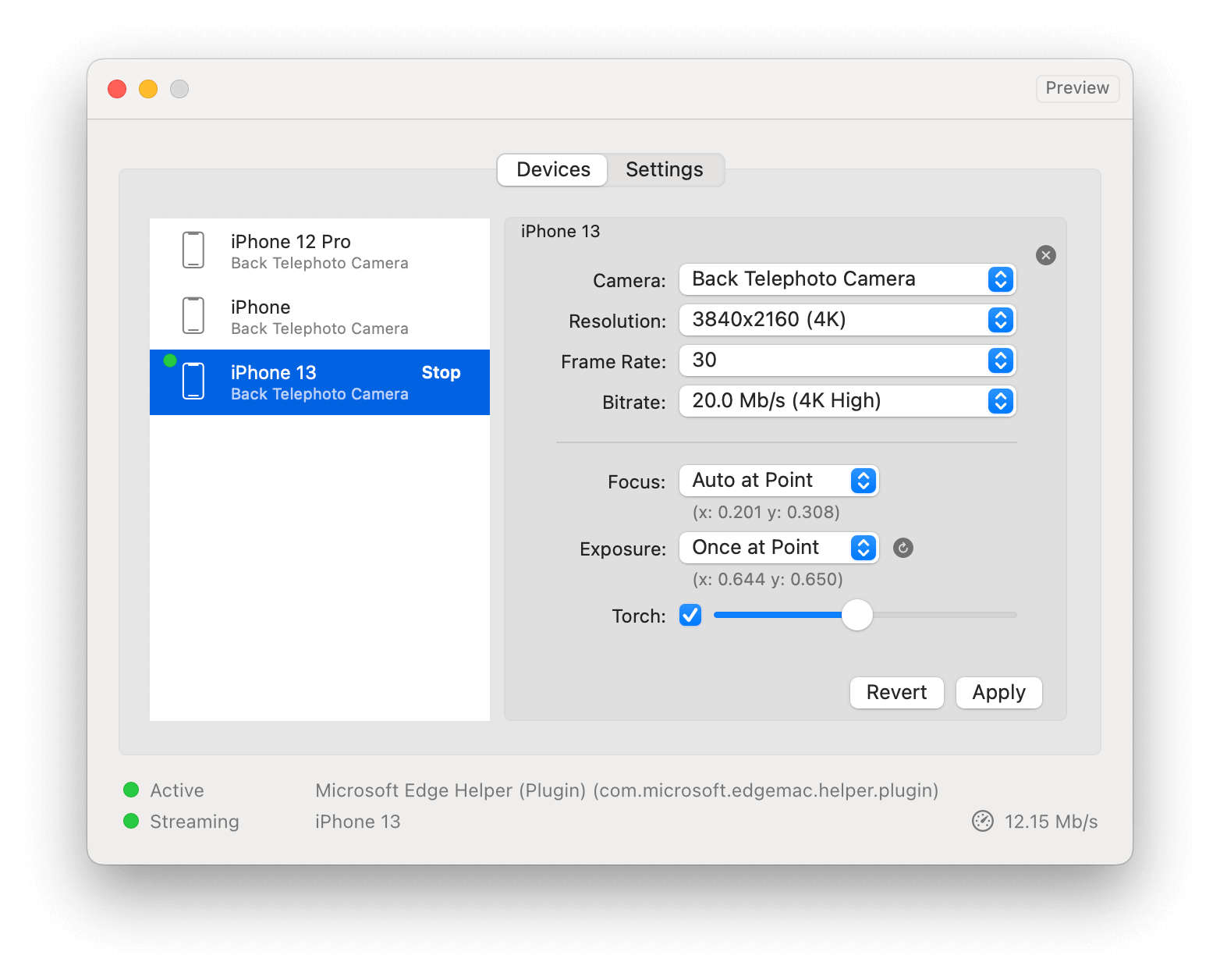 Supported Apps
macOS 12 Monterey and newer
Since version 2.0.0, Webcam Plus supports most Mac apps.
macOS 11 Big Sur and older
For macOS 10.13 High Sierra and up to macOS 11 Big Sur, Webcam Plus's app support will vary. A lot of third party apps are compatible, but Apple's own apps are not supported.
The table below lists the app compatibility up to macOS 11 Big Sur. This is not a complete list and if the app that you are looking for is not in the list, then feel free to try it out for yourself.
| App | Supported |
| --- | --- |
| Google Chrome | ✓ |
| Brave Browser | ✓ |
| Microsoft Edge | ✓ |
| Firefox | ✓ |
| Zoom | ✓ |
| OBS Studio | ✓ |
| mmhmm | ✓ |
| | |
| Safari | × |
| FaceTime | × |
| PhotoBooth | × |
| QuickTime | × |
| Microsoft Teams | × |
| Slack | × |
| Skype | × |
Downloads
Please select the correct installer for your system. Version 2.0.0 (latest) is supported by macOS 12.3 and newer. For older macOS 10.3 to 12.2, please use version 1.2.3.
About
This is an app that I develop on my spare time. The app is completely free for anyone to use.
Consider donating to this project.
If you have any questions then contact me.